A LAST FORECAST FOR WINTER STORMS AS LIMITED EDITION GLENFIDDICH DRIFTS TO ONTARIO
Glenfiddich re-releases Glenfiddich Winter Storm in select Canadian markets with special whisky finished in Canadian Icewine casks.
April 26, 2019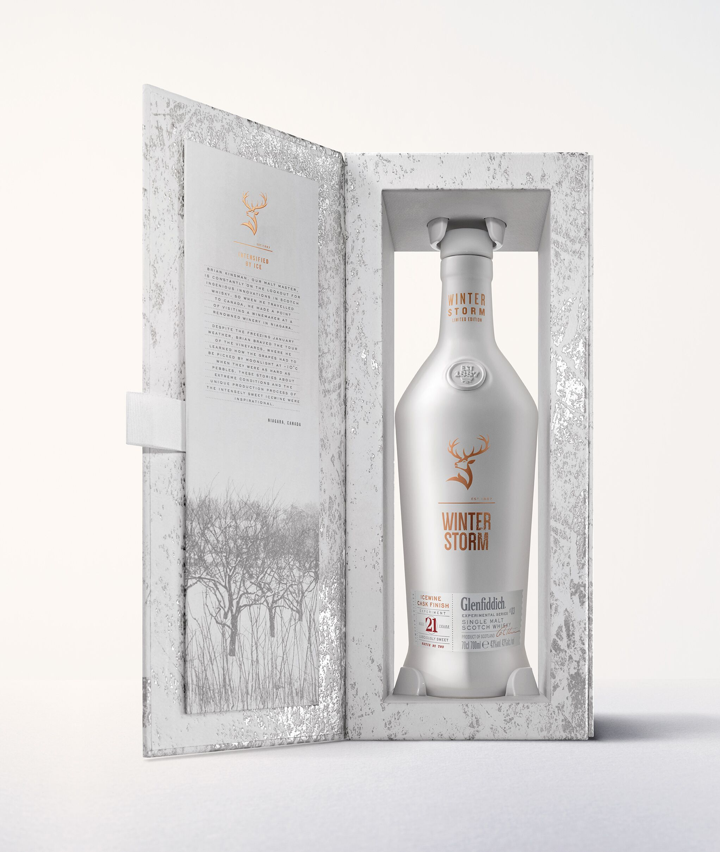 Winter may seem in the rearview mirror for most Canadians this April, but residents of Ontario will have the opportunity to delve right back into the eye of the storm.
Glenfiddich Winter Storm, one of the innovative expressions from the Glenfiddich Experimental Series, will return to select LCBO stores for an exclusive release, giving people of Ontario the opportunity to experience one of the world's most inventive whiskies.
"Only rarer whiskies, those aged for 21 years, could cope with the extra Icewine intensity," comments Brian Kinsman, Glenfiddich Malt Master and 2019 Winner of the Icons of Whisky for Master Distiller and Master Blender of the Year.
"Having more tannins, extracted from years in oak, these malts brought out a uniquely fresh lychee note instead of being swamped by sweetness."
Originating from an idea from Beth Havers, Canadian Brand Ambassador for Glenfiddich in 2012, Winter Storm was finally conceived in 2016 following Kinsman's visit to Niagara region winery, Peller Estates.
Inspired by the visit and driven by his desire for innovation, Kinsman started experimenting with several French oak ice wine casks from Niagara at the Glenfiddich Distillery in Dufftown, filling them with various Glenfiddich aged malts for up to six months.
"The finishing of Glenfiddich Winter Storm in ice wine casks gives the limited edition whisky a unique layer of sweetness and complexity," comments Beth Havers, Canadian Brand Ambassador for Glenfiddich. "The resulting liquid is a perfect combination of both pioneering liquids, the heightened candied sweets and oakiness of Glenfiddich, complemented by the mouth-watering tropical fruit notes and underlying wine notes of icewine."
One of the first female brand ambassadors for a scotch whisky across the globe, Havers is no stranger to whisky innovation. As a celebrated trailblazer and winner of the Icon of Whisky Rest of World 2016 Scotch Whisky Brand Ambassador of the Year Award, Havers has been integral to the visibility of women in whisky, curating Toronto's first all women whisky club, aptly titled Women & Whisky. Havers also helped conceptualize the partnership between Glenfiddich and Craig McDonald from Peller Estates for the ice barrels for Glenfiddich Winter Storm.
Glenfiddich Winter Storm is one of four game-changing whiskies in the Glenfiddich Experimental Series. Designed to inspire, this special series combines Glenfiddich's passion for pushing Scotch whisky boundaries with the opportunity to collaborate with trailblazers beyond the world of whisky. Created from partnerships and collaborations with like-minded mavericks from a wide range of different industries, Glenfiddich Experimental Series unlocks new whisky possibilities in the true spirit of experimentation.
Packaged in a striking white bottle and beautifully embossed presentation box featuring a micro-zoomed icewine vine, Glenfiddich Winter Storm is currently available in Ontario for a limited time at select LCBO stores.