CELEBRATE THE BIRTH OF THE GREAT SCOTTISH BARD THIS ROBBIE BURNS DAY BY ENJOYING SOME CLASSIC TRADITIONS WITH A MODERN TWIST
Gather your friends, a hearty meal, and a smooth Glenfiddich Whisky to celebrate the birth of one of Scotland's most influential cultural figures to shake off the January blues this year.
January 22, 2020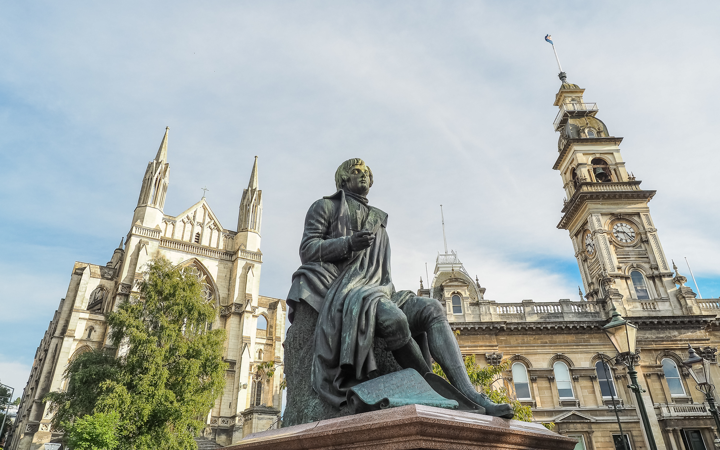 TORONTO, ON: Now that the holiday season is behind us, we are finally getting settled into this new year and new decade. It's likely that you began your year with a rousing rendition of Auld Lang Syne as the clock struck midnight on New Year's Eve, but do you know where that song actually came from?
Auld Lang Syne is the most popular poem written by Scottish poet Robert Burns in 1788. Robbie Burns is widely considered the national poet of Scotland and his influence is still renowned within Scotland and abroad.
Robbie Burns day is celebrated worldwide annually on his birthday, January 25. Robbie Burns Day, or Burns Night, commemorates the life of the bard, and celebrates his contribution to Scottish culture. The holiday was started by Robbie Burns' acquaintances who initially held the day on the anniversary of his death, July 21 in the late 1700s, but later changed the holiday to his birthday in January.
Traditionally, Robbie Burns day is celebrated with many pieces of Scottish culture, including hearty food, good friends, poetry readings, and of course, good whisky. The traditional menu begins with a soup, or Scottish broth, and then the haggis is served. If you haven't heard of haggis before, it is not for the vegetarians in the room; Robbie Burns appreciated the savoury trifle so much that he has a poem for the carving of the haggis called Address to a Haggis. The rest of the meal is filled with more poetry throughout and ends with guests holding hands and reciting Auld Lang Syne.
The heart behind a Robbie Burns supper translates very well to the modern age, as we can never have enough of good food, whisky, poetry, and friends. Robbie Burns day is the perfect opportunity to shake off the January blues that may be creeping in, by putting a modern twist on some of the traditional Scottish customs. Getting some people together for a Robbie Burns supper is the perfect way to warm up your hearth, your belly, and your heart this winter.
Robbie Burns day provides a great opportunity to crack open a special bottle of scotch whisky that you received as a Christmas present or have been saving for a special occasion. But any bottle that is special or delicious to you will be the best accompaniment.
Glenfiddich 12 Year Old Single Malt Scotch
This whisky is as classic as the Bard of Ayrshire himself. The taste is sweet with fruity notes, and develops into butterscotch and subtle oak flavours.
Glenfiddich 18 Year Old Single Malt Scotch
The Glenfiddich 18 Year Old is a warm rich bronze coloured liquid with warming smells of caramel and vanilla. Hints of dried fruit on the palate with a long and rewarding finish.
Bobby Burns Cocktail
A classic cocktail named for the man of the hour, to be drunk on Robbie Burns day! A twist on a Manhattan with a splash of liqueur, usually Bénédictine or Drambuie for the scotch base.
For the menu, think classic winter meals, like roasted potato and turnip soup, and grilled kale. If you don't think you can stomach the haggis (haggis is traditionally served in a sheep's stomach), try making a meatloaf with ground beef or lamb and the spices used in the traditional dish. The classic Robbie Burns desert is a trifle with some form of alcoholic element, try using a Drambuie, save all the whisky for drinking.
Any reason for friends to gather is a good reason, so celebrate Robbie Burns day with good friends, good whisky, and tongues planted firmly in your cheeks.
To the immortal memory of Robert Burns!
For more information regarding Glenfiddich in Canada, please visit the online press room at glenfiddich.alchemystsinc.com.
To learn more about the world of Glenfiddich globally, please visit www.glenfiddich.com.
-30-
ABOUT GLENFIDDICH
GLENFIDDICH® is the world's most awarded single malt Scotch whisky. Today, Glenfiddich is run by the fifth generation of the Grant-Gordon family and is one of the few remaining family-owned and operated distilleries in the world. Glenfiddich continues to be a progressive spirit in challenging malt whisky conventions while also staying true to legacy, by keeping the traditional production techniques established by founder, William Grant. Represented by PMA Canada.www.pmacanada.com
ABOUT WILLIAM GRANT & SONS
William Grant & Sons, Ltd. is an independent family-owned distiller headquartered in the United Kingdom and founded by William Grant in 1887. Today, the luxury spirits company is run by the fifth generation of his family and distils some of the world's leading brands of Scotch whisky, including the world's favourite single malt Glenfiddich®, The Balvenie® range of handcrafted single malts and the world's third largest blended Scotch Grant's® as well as other iconic spirits brands such as Hendrick's® Gin, Sailor Jerry®, Milagro® Tequila, Tullamore D.E.W Irish Whiskey, Monkey Shoulder and, most recently, Drambuie and Hudson. For more information, please visit www.williamgrant.com.