GLENFIDDICH, THE WORLD'S MOST AWARDED SCOTCH WHISKY, ANNOUNCES THE OPEN CALL FOR APPLICATIONS FOR THE PRESTIGEOUS GLENFIDDICH ARTISTS-IN-RESIDENCE PROGRAM, A PRIZE THAT AWARDS A CANADIAN ARTIST A THREE-MONTH RESIDENCY IN SCOTLAND.
The coveted Glenfiddich Artists in Residence Program in Canada is officially accepting applicants for the 2022 prize until January 25, 2022.
December 7, 2021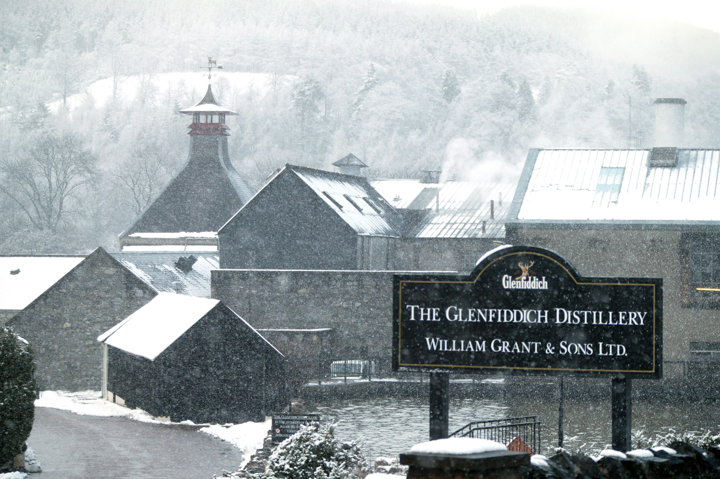 Glenfiddich, the world's most awarded scotch whisky officially invites Canadian artists living and working in Canada to submit applications for the prestigious 2022 Glenfiddich Artists in Residence Prize valued at over $20,000 CAD.
Celebrated in art communities as one of the most coveted artist residencies in the world, the Glenfiddich Artist in Residence Program is a three-month all-expenses paid residency at the Glenfiddich Distillery in Dufftown, Scotland. The annual prize for the artist includes three months of income, all-inclusive travel and accommodations, project materials, and the opportunity to foster cross-disciplinary ideas while working with an international art community from around the world.
"The Glenfiddich Artist in Residency program provides a once-in-a-lifetime opportunity for Canadian artists looking to create and showcase their work on a global scale," comments Claire May, Senior Brand Manager, Glenfiddich. "Glenfiddich in Canada is proud to present this incredible opportunity to Canadian artists for the sixteenth year."
Open to Canadian artists who live and work in Canada, applicants must complete a five-part application that includes an outline of how inspiration will be drawn from the distillery and the work they envision creating. Applications must also include a short project proposal, a current CV, a short artist statement, 5 to 15 images (or a three-minute video highlighting their artistic practice), and a required questionnaire supplied by Glenfiddich. Completed applications must be submitted by midnight eastern standard time on January 25, 2022.
"Providing the opportunity for Canadian artists to collaborate and create in the scenic Scottish highlands is an honour we respect highly," comments Andy Fairgrieve, Artists in Residence Co-ordinator, William Grant & Sons. "Each year brings a new selection of passionate artists, and each year we are greatly impressed by the work they create."
Every year, the Glenfiddich Artist-in-Residence Program receives over 200 applicants, each carefully reviewed from a jury of some of Canada's most prominent members of the art community. The 2022 jury includes Michelle Jacques, Head of Exhibitions and Collections & Chief Curator at Remai Modern in Saskatoon; David Diviney, the senior curator at the Art Gallery of Nova Scotia in Halifax; Michelle Schultz, Executive Director of Latitude 53 in Edmonton; Stefan Hancherow, Associate Art Curator for RBC in Toronto; Collin Zipp, the director of Platform in Winnipeg; Ivan Jurakic, Director of the University of Waterloo Art Gallery; and the Canadian 2008 Glenfiddich Artists in Residence Prize recipient, Dave Dyment.
"The support for the winning Artists-in-Residence extends far beyond the financial," comments Dyment. "Artists have the assistance, resources and the distinctive highland hospitality to produce strong work while enjoying the uniquely idyllic environment. My time in residency with Glenfiddich was among the best three months of my life and it is an honour to continue the tradition with Canadian artists annually."
Globally, the Glenfiddich Artist-in-Residence Program has awarded over a hundred artists from countries such as Australia, Chile, China, India, Mexico, Nigeria, Poland, Scotland, South Africa, South Korea, Spain, Taiwan, the UK, the US, and Canada since its inception in 2002. Past winning Canadian artists include Annie Pootoogook, Daniel Barrow, Myfanwy MacLeod, Damian Moppett, Rhonda Weppler & Trevor Mahovsky, Jon Sasaki, Eleanor King, Lee Henderson, Vanessa Maltese, Christof Migone & Marla Hlady, and most recently Dean Baldwin Lew. Winning mediums of work have spanned painting, sculpture, sound art, video, photography, performance, and installation.
"I've found myself longing for the place and the extended experience I gained at the Glenfiddich distillery during my residency," adds Montreal artist, Dean Baldwin Lew. "The new connections formed with the other resident artists are especially important, yet the solitude and focus that the residency provides is such a rare and special gift."
The Summer of 2022 will mark the 21st anniversary of the global Glenfiddich Artist in Residence program and the 16th anniversary of the Glenfiddich Artist in Residence program in Canada. Submissions are accepted from today, until 12:00 a.m. EST on January 25, 2022. The winning Canadian artist will be announced in March 2022.
For more information about the Artist in Residency program, please visit www.glenfiddich.com/ca/artistsinresidence.
For more information regarding Glenfiddich in Canada, please visit glenfiddich.alchemystsinc.com.
To learn more about the world of Glenfiddich globally, please visit www.glenfiddich.com.