SCOTLAND BORN WITH AN AMERICAN ACCENT: GLENFIDDICH PROUDLY CELEBRATES THE 14 YEAR BOURBON BARREL RESERVE IN CANADA
November 24, 2020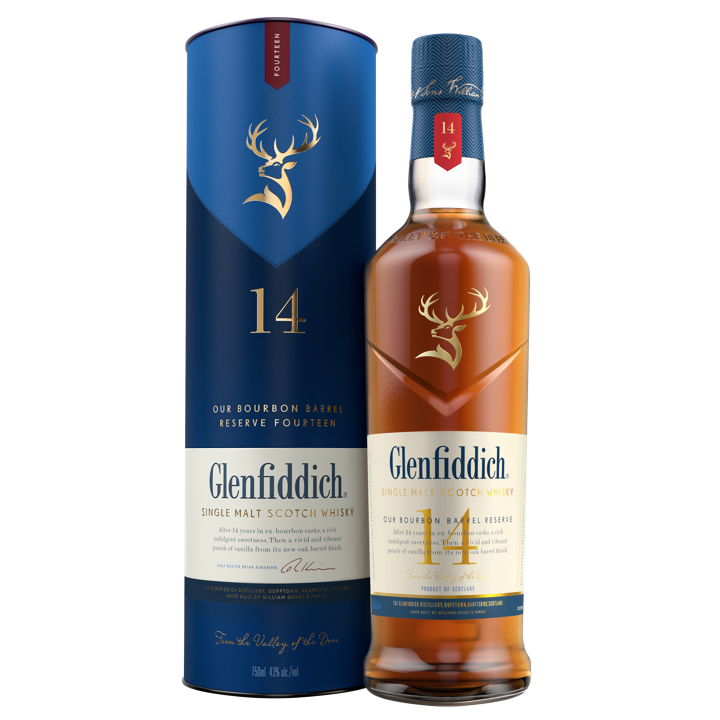 Toronto, ON- The world's most awarded single malt scotch whisky, Glenfiddich, adds the all-new 14 Year Old Bourbon Barrel Reserve to its incredible selection of award-winning whiskies, nationwide.
The Glenfiddich Bourbon Barrel Reserve is a single malt scotch, matured exclusively in ex-bourbon casks for 14 years. Finished in deeply charred new American Oak casks, the liquid delivers a rich, sweet and vibrant flavour to this award-winning single malt scotch.
"With notes of fresh oak and velvety caramel, Glenfiddich 14 Year Bourbon Barrel Reserve is the perfect marriage of bourbon sweetness and Scotch complexity," comments Brian Kinsman, Glenfiddich Malt Master and 2019 Winner of the Icons of Whisky for Master Distiller and Master Blender of the Year. "It remains true to the Glenfiddich heritage of producing fruity and beautifully rich whiskies."
A tribute to the shared history of American and Scotch whisky, Glenfiddich 14 Year Bourbon Barrel Reserve is presented in a rich royal-blue package, inspired by the colors of the Kentucky state flag. Embossed with Glenfiddich's iconic gold stag, the packaging pays tribute to the deep and meaningful contribution the American whisky industry has had on the single malt scotch industry in Scotland.
American Oak casks have always played a significant role in single malt Scotch whisky maturation and the flavor profiles we find today. The result is a beautifully complex scotch with flavors of woody spices combined with ripe summer fruit, a result from the spirit's interaction with the casks.
Certified Kosher and only available in Canada and the U.S., the Glenfiddich 14 Year Bourbon Barrel Reserve will be available at select retailers across the country year-round.
"We are delighted to continue to share this exciting addition from Glenfiddich; which is born in Scotland with an American Accent," comments Rupy Singh, Senior National Brand Manager in Canada, Glenfiddich. "We look forward to sharing this newest Glenfiddich release with Canadians (of legal-drinking age) from coast to coast".
Slainte!
Notes on Glenfiddich 14 Year Bourbon Barrel Reserve:
Colour: Rich golden
Tasting Notes: Beautifully rich and sweet with layers of creamy toffee, woody spices, candied orange peel and fresh toasted oak.
Strong malt notes with a solid representation of oak, fruit, and spice. Silky mouthfeel, flavours of corn and caramel with oak and cinnamon.
Nose: Deep vibrant vanilla oak notes with hints of citrus, caramelized brown sugar and cinnamon.  Baked apple and ripe summer fruits are balanced with the rich oaky aromas.
Finish: Long lasting with a lingering sweetness.
Main Flavors: Vanilla sweetness, summer fruits, fresh oak.
Serving Suggestions: Neat or on-the-rocks recommended.
For more information regarding Glenfiddich in Canada, please visit the online press room at glenfiddich.alchemystsinc.com.
To learn more about the world of Glenfiddich globally, please visit www.glenfiddich.com.